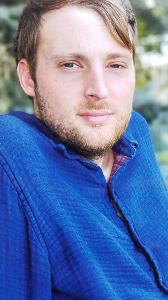 Patricia and Les Cappetta have established the Matthew Tobin Cappetta Archaeological Scholarship Endowment with a gift of $100,000 and it is their hope that others will be inspired to contribute to the endowment.

Donations to this endowment support a scholarship that covers tuition, required fees, and books or course materials for one or more graduate students (Master's or Ph.D) to help them complete a graduate degree in archaeology or anthropology in memory of Matthew Tobin Cappetta.
Matthew Tobin Cappetta was an archaeologist who spent a decade in the American Southwest, working with Native American tribes on archaeological sites. He instilled trust and humor in those around him. Matthew intended to attend graduate school to get advanced training in archaeology before his tragic death in 2019. The Donors wish to honor his memory and lifelong passion for archaeology by establishing an endowed scholarship in his name that will support, in perpetuity, other aspiring archaeology students to attend graduate school and achieve their dreams of becoming professional archaeologists.
We thank the following donors, who generously gave between November 1, 2019 and March 20, 2020.
Sean Handerhan
William Samuel Hart
Todd Hauptli
Lee and Vicky Hauser
Stephanie Havard
Michelle G. Hendrix
Oscar Hernandez
HMS Host
Thomas and Sandra Hoog
Bill and Delores Horvath
Frankel Howell
Glenn Hurley
David M. Husack
Linda Iannuzzi
Sarah Imberman
Laddie Irion
Susan and Stephen Izant
Steve Johnson
Daniel Joyce
Kathleen Juckniess
Oleg Kaganovich
Tony Kamel
Tony Kamel
Eric Kieras
Thomas Kinton
Michael Francis Kline
Claus Kohlenberger
Paul Kolaj
Alison LaFollette
Douglas Owen Lambourne
Gordon Lambourne
Christina Lareau
Nancy Larmore
Elise Jakoby Laugier
Gino Lazzara
Janine Leishear
Geoffrey Lentz
Susan Lilavois
Bryan Loden
Stephen Longley
Paul Loupakos
Mitchell Lustig
Alain Maca
Rhett Madison
Arpit Malaviya
Marcelo Maldonado
Deborah Marcus
George Maroulis
Martin Global Counsel LLC
Master ConcessionAir LLC
Catherine Mayer
William and Linda McDaniel
Deborah and James McElroy
Candace McGraw
Margaret McKeough
Bernie Merritt
Glenn Meyers
Frank Miller
Edwin Minch
Joanne Minerbi
Nancy and Neal Mohlmann
Lydia Molby
Katie Morrison
Megan E. Morrison
Thomas Murphy
Patrick Murray
Aimee Murtha Layer
Kottayam Natarajan
Maggie Newcomer
Robert Nitsch
Thomas O'Hare
Mark Olcott
Gregg Paradies
Steve Parker
Tonja Pastorelle
Robert Peddycord
Fredrick Piccolo
Sally Piccolo
Essi D. Pourhadi
Michael Price
Horace Priester III
Dennis Raulin
Debra Rebro
Cynthia and John Reilly
Benjamin Richter
Ramon Ricondo
Hubert Riley
David Roberts
Robinson Consulting
Mike Roos & Company
Bruce Rubin
Lawrence and Robin Rusinko
Thomas Arrington Rymer III
Rymer & Associates, P.A.
Joan Ryzner
Melaney Sanchez
Oona Schmid
Joan S. Schneider
Randal Schultz
Roger Schwandtner
Biagio Scotto
A. Secen
Shellis Management Services
Yasmin Sheriff
Neal and Pamela Sherman
Michael Sibilia
Frank Sickelsmith
Ben Siegel
Jose Silva
Grant Smith
Simon Smith
Ana Sotorrio
Nelson Spencer
Diane Stabb
Jon W. Stentz
Marie Stiles
Kathryn Swann
Luke Tait
Renee Tedesco
Lori Thompson
Kris Tiarks
Sukh Tiwana
Carol Elise Toeller
Christopher Toeller
Adam Torine
David N. Townshend
Dayna Tucker
Stephrn Van Beek
Kent Vanden Oever
Verizon
Linda Vinciguerra
Henry D. Wallace
Joseph Waller
Robert Watson
John Weeks
Wells Fargo Advisors
Matt Wilson
Robert and Anne Wilson
Hetz Wochholz
Roger Worrell
Jeff Yablun
Jason Yoo
Thomas Zak
Nancy Zimini