The SAA Press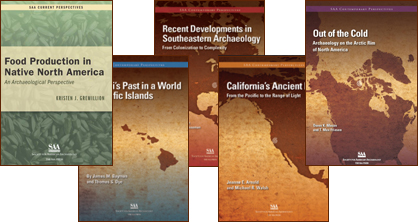 Click here to view or download the current SAA Press Catalog.
Welcome to The SAA Press! The SAA Press is the official book-publishing unit of the Society for American Archaeology. Its books focus on the discipline and context of archaeological endeavors and help archaeologists in their work, be it in the private sector, government, schools, universities, and museums. The press has two publication series: Current Perspectives provides brief up-to-date overviews of the current state of archaeological knowledge of a geographic region or a theoretical/methodological issue. Archaeology in Action addresses key issues in archaeological research and practice including fieldwork and ethics.
If you would like to submit a proposal, or if you questions about the editorial process, please contact editor Jennifer Birch at
Jennifer Birch
250 Baldwin Hall
355 Jackson St. S.
Athens, GA 30602-1619
jabirch@uga.edu
New in June 2017 and updated in June 2021, the Society for American Archaeology has released a fully revised and updated publication policy and style guide in English and Spanish. The new guide provides updated submission requirements and policies, as well as procedures as they relate to our new publishing partner, Cambridge University Press. In the new guide you will also find more robust guidance for citing various electronic sources (websites, blogs, etc.), updated protocols for certain formatting issues (e.g., use of % in text, removal of periods in BP/BC/AD, use of leading zeros), the requirement to document data availability, and more. The submission and style requirements are effective immediately, so please be sure to carefully review the new guide before you submit a manuscript.
Download the PDFs here:
Editorial Policy, Information for Authors, and Style Guide for American Antiquity, Latin American Antiquity, and Advances in Archaeological Practice
or
Normas Editoriales, Información para los Autores y Guía Estilística para American Antiquity, Latin American Antiquity y Advances in Archaeological Practice
(If you do not have Acrobat, you can download it for free from the Adobe site.)
Please contact the manager, Publications, at publications@saa.org. You will need to provide the book title, the page number(s) of the material, and a brief description. Note that in most cases, the permission of the original author will also need to be solicited (to be included on the permission request form that will be provided by SAA), and there will be a fee of $15.00 for the first page or significant part thereof, and $10.00 for each additional page or significant part thereof.
To request a desk copy of a book that has already been adopted for a course, please send your request on school letterhead indicating department, course name, expected enrollment, and the semester the course will be offered. Submit requests to:
The SAA Press
1990 K Street NW, #401
Washington, DC 20006
Telephone 202-789-8200
Email: publications@saa.org
Recognized book jobbers and bookstores that order multiple copies of the same title at the same time may take a 20% discount off the regular price. Please contact Roksana Qasimi to place an order.

Book jobbers and bookstores can return materials provided they are in "resaleable condition," i.e., no stickers, prices, etc. on the item. The material must be returned accompanied by a copy of the original invoice within 90 days of original sale.