Meet new members and contribute your expertise to your professional organization.
Committees and task forces are key to how SAA operates. Many research into issues related to their committee charge in order to make policy recommendations to SAA's Board of Directors. In 2017, SAA gave more than $75,000 in scholarships and awards to help our profession honor excellence and become a more diverse cohort. Some committees make the case for archaeology to the media, the public, and government agencies.
SAA has over 40 committees and task forces, staffed by more than 400 volunteers and this village of volunteers helps SAA keep dues as low as possible, so that as many archaeologists as possible may join. Most committees work by email and may meet in person at the annual meetings. SAA student members are also eligible for committee service; in fact, most committees must appoint at least two student members.
Volunteers may express interest at any time of the year in the work of a committee by emailing the chair. Alternatively, every November, the SAA makes an "open call for committee service" to its membership.
Committees and Task Forces Directory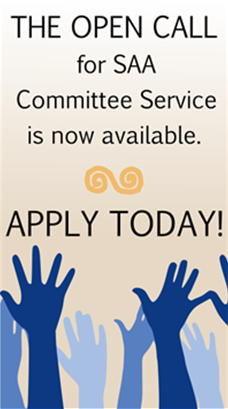 The Call for Committee Service is now open!

Committees are a key contributor to SAA operations. SAA has over 40 committees, staffed by more than 400 volunteers. Appointments are normally three-year commitments and will commence at the close of the Annual Business Meeting in Austin, TX. Members currently serving on a committee who wish to be reappointed for a second term on the same committee must also reapply.

Please note that most committees must have at least two student members. If you are a student, committee membership gives you the chance to gain experience in how SAA works early in your career.

Please consider volunteering for one of many awards committees. SAA Awards recognize and honor knowledge and professional achievements at all career levels—from student and early career archaeologists to those who have made lasting contributions to the Society and profession. They acknowledge contributions to archaeology by academics, museum professionals, government agencies, those engaged in cultural resource and heritage management, authors and journalists, as well as advocational archaeologists and members of the public. We need volunteers who represent the Society's diverse membership and wide range of achievements and expertise that are honored by our awards program. Join us on an awards committee, and help us celebrate the accomplishments of our talented members! For a complete listing, visit https://www.saa.org/career-practice/awards.

We hope that you will consider volunteering for one of SAA's committees.
Please contact membership@saa.org if you have any questions about committee membership or the Committee Service Form.