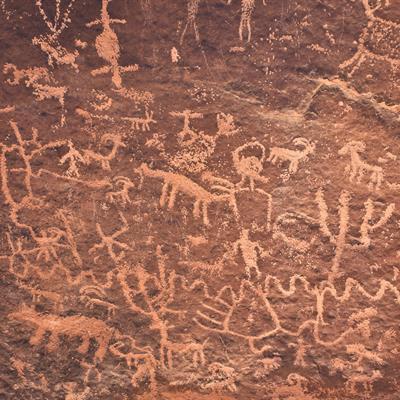 Register
Professional Rock Art Recording: Simplified and Accurate
When: January 12, 2021 3:00-5:00 PM
Duration: 2 hours
Certification: RPA-certified
Pricing
Individual Registration: $99 for SAA members; $149 for non-members
Group Registration: $139 for SAA members; $189 for non-members
Carol Patterson has 20 years experience teaching rock art recording field schools. She learned the techniques while a PhD candidate attending a rock art field school in Australia in 1998. In the United States, she co-taught with Dr. Alan Watchman several 3- 5 day field schools, offering college credit to students and free tuition to Native students. These classes included participation by members of the Northern Ute, the Wanapum tribe in eastern Washington, and the Southern Ute tribe in Colorado. Over the decades, Dr. Patterson has continued to conduct rock art documenting sessions in the field and annually teaches classes in university classroom settings at Colorado University at Denver, Metropolitan State College, and Mesa State University. She also conducts rock art recording for Colorado Archaeological Society chapters, Program for Avocational Archaeological Certification classes, rock art research groups, and site steward volunteers.
Learn a simple and efficient way to record rock art without expensive equipment, suffering in extreme temperatures, or fighting difficult lighting conditions. This method uses digital systematic photography on site, and then processing and drawing the digital images. The instructor will use examples from many different field schools, with challenging geographic locations to guide you through the process, demonstrating how to draw exactly what is there. This can be easy, fast, and fun, with low-tech materials that yield high-tech illustrations. The instructor will also emphasize the need for Native partnerships in understanding what information is important to collect from their perspective and what future researchers need to create multi-cultural, user-friendly rock art databases.
1. Learn how to produce the most accurate reproduction of prehistoric rock engravings and paintings possible with systematic documentation.
2. Explain how to record rock art within the context of the surrounding resources, like water/springs, edible plants, game trails, eco-zones, and archaeological features.
3. Identify threats to the images including natural weathering, spalling areas, and human threats.
4. See how to photograph the viewscapes to place the panel within the context of the rock formation, and surrounding land features.
---