Please be aware when registering, all times are in the Eastern Time Zone.
Even for free events, you will need to
click the "Proceed to Checkout" button and "Submit Order" to complete your registration. If you do not receive an automated confirmation email, or if you have any questions about registration, please email
onlineseminars@saa.org
.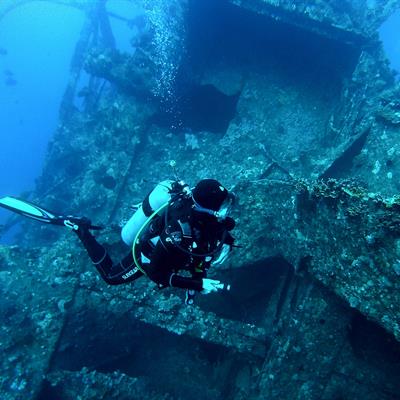 Registration Closed!
Underwater Cultural Heritage: An ACUA Seminar
When: October 22, 2020 1:00-3:00 PM ET
Duration: 2 hours
Certification: RPA-certified
Pricing
Individual Registration: $99 for SAA members; $149 for non-members
Group Registration: $139 for SAA members; $189 for non-members
Dr. Ashley Lemke is an Assistant Professor at the University of Texas in Arlington. Formally she was a Post-Doctoral Research Fellow in the Museum of Anthropological Archaeology at the University of Michigan, where she received her Ph.D. in 2016. As a prehistoric underwater archaeologist, Lemke's research seeks to understand the social and economic organization of hunter-gatherers by investigating now-submerged ancient landscapes. These research questions have led her to work in North America and Europe on both terrestrial and underwater archaeological projects from the Lower Paleolithic to 19th-century Nunamiut archaeological sites in the high arctic.
Dr. Amy Mitchell-Cook, RPA spent 10 years as a maritime archaeologist before shifting her focus to maritime history. She has written numerous chapters, articles and book reviews on the subject. Her book, Sea of Misadventures: Shipwreck and Survival in Early America, is based on more than 100 accounts of shipwreck narratives from 1640 to 1840, and explores the issues of gender, race, religion and power. She co-wrote a chapter in an upcoming book, Methodology in La Belle: The Archeology of a 17th Century Ship of New World Colonization, on the methods archaeologists in Texas used to record and excavate the French ship that sank off the coast of Texas in 1685.
Dave Ball, RPA is the Regional Preservation Officer for the Pacific Region of the Bureau of Ocean Energy Management (BOEM). Dave joined the BOEM Gulf of Mexico Region (then Minerals Management Service) office in 1999 and transferred to the Pacific Region office in 2010. He has almost 30 years' experience in archaeology and has directed field research on both terrestrial and underwater archaeological sites across the US, including inundated pre-contact sites in Florida and Washington, World War II shipwrecks, and deepwater shipwrecks in the Gulf of Mexico. Dave is a member of the ICOMOS International Committee on Underwater Cultural Heritage and has served in various roles with the Advisory Council on Underwater Archaeology.
Cultural resource managers, land managers, and archaeologists are often tasked with managing, interpreting, and reviewing archaeological assessments for submerged cultural resources. This seminar is designed to introduce non-specialists to issues specific to underwater archaeology. Participants will learn about different types of underwater cultural heritage (UCH) and some of the methods employed to help protect those sites. This seminar is not intended to teach participants how to do underwater archaeology, but instead will briefly introduce different investigative techniques and international best practices. The purpose of this seminar is to assist non-specialists in recognizing the potential for UCH resources in their areas of impact.
Help terrestrial archaeologists and land managers to:
Identify the potential for underwater cultural heritage resources in affected areas;
Recognize best practices for treatment of underwater cultural heritage; and
Understand basic qualifications required for proper documentation of underwater cultural heritage.
---