SAA's Online Seminar Series offers free and fee-based professional development opportunities designed for students and archaeologists seeking to enhance their skill sets or knowledge base.
One-hour seminars are free to SAA members. Knowledge Series seminars, also free to members, are unique opportunities within the Online Seminar Series to hear from some of the most prominent archaeologists in our field. Two-hour seminars are available to SAA members and non-members for a fee. All lectures are delivered remotely through the WebEx videoconferencing application.
Please be aware when registering, all times are in the Eastern Time Zone.
For any questions related to the Online Seminar Series, please contact onlineseminars@saa.org.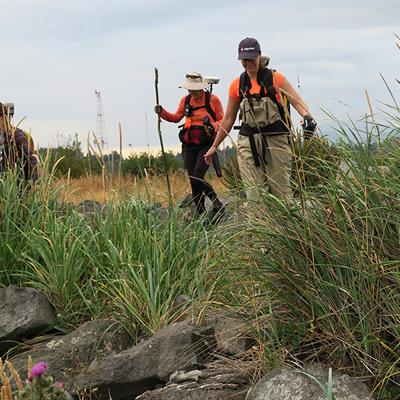 Registration Closed!
Introduction to Archaeological Damage Assessment
When: October 23, 2019 2:00-4:00 PM
Duration: 2 hours
Certification: RPA-certified
Pricing
Individual Registration: $99 for SAA members; $149 for non-members
Group Registration: $139 for SAA members; $189 for non-members
Forensic Archaeologist Martin McAllister, MA, RPA, has been involved in archaeological damage assessment since 1974,when he worked with the Forest Service. After leaving the Forest Service in 1985, McAllister formed the firm of Archaeological Damage Assessment & Investigation (ADIA) which specialized in consulting and training on archaeological damage assessment and the investigation and prosecution of archaeological violations. In 2015, ADIA became part of Northland Research,Inc.,an archaeological contracting firm based in Arizona. He now works for Cogstone Resource Management, Inc. McAllister has conducted or been directly involved in 38 archaeological damage assessment projects, including the archaeological damage assessment for the Exxon-Valdez Oil Spill. He is also the author of National Park Service Technical Brief 20 entitled Archeological Resource Damage Assessment: Legal Basis and Methods.
Brent Kober is a Forensic Archaeologist with the Cogstone Resource Management, Inc. He has been a professional Archaeologist for 22 years. He has performed archaeological damage assessments and has taught forensic archaeological methodology throughout the United States alongside nationally recognized expert Martin McAllister for the last five years.

This online seminar is intended for professional archaeologists employed by government agencies or archaeological contracting firms. It will provide participants with an introduction to archaeological damage assessment. After presenting a basic definition of archaeological damage assessment, it will review the legal elements for criminal and civil prosecution of violations of the Archaeological Resources Protection Act (ARPA). Next, there will be discussions of (1) Federal Rule of Evidence 702 for expert witness testimony; (2) the professional standards for archaeological damage assessment; and (3) development of a damage assessment strategy. This will be followed by an introduction to the components of archaeological damage assessment, including, for each component, identification of the purpose, responsibilities, time requirements, and basic procedures. The seminar will conclude with a brief discussion of the importance of the professional qualifications and the time and labor commitments necessary to meet the legal standards for expert witness testimony.

Understand the basic purpose of archaeological damage assessment;
Understand the legal and professional standards for archaeological damage assessment, including Federal Rule of Evidence 702 for expert witness testimony;
Understand the components of archaeological damage assessment; and
Understand the professional qualifications necessary to conduct each of the components of archaeological damage assessment and the time and labor requirements involved.
---

Registration Information

When Registration Opens and Closes

Registration for free online seminars opens approximately two weeks prior to the course date. Registration for fee-based online seminars opens as soon as the course description is posted. Registration is on a first-come, first-serve basis and will remain open until "seats" are filled or until one week before the seminar.
How to Register
For all seminars, register by clicking the button next to the seminar description. Be sure that you have completed your checkout and submitted your order. Even for free seminars, you will need to click "Proceed to Checkout" before your registration is complete. For screenshots and step-by-step instructions, review how to register for an online seminar [PDF 1.4 MB].

Primary registrants will receive a confirmation email immediately after registration and an invitation email to the online seminar about a week before the course date. If you do not receive these, please contact onlineseminars@saa.org right away.

Group Registrations
Two or more individuals sharing a single computer connection or "seat" qualify for the group rate. Only the primary registrant is required to be an SAA member to receive the SAA group-member pricing.
When registering groups, the primary registrant should submit the names and email addresses of each group participant in a spreadsheet before the course date to onlineseminars@saa.org. This is to ensure that all participants receive a certificate of completion and RPA credit (if applicable). We regret that we cannot add group participants after the seminar. Only registered participants will receive certificates of completion.
Cancellations and Refunds
Cancellations and refunds for fee-based online seminars are allowed prior to one week before the course date. All cancellations are subject to a $25 processing fee.
If you find you are unable to attend a free online seminar after registering, please let us know at onlineseminars@saa.org.
Using WebEx
You will need to install and test WebEx before the seminar. WebEx instructions for online seminar participants [PDF 352 KB] provides a guide for system requirements and using the application for the seminar.
Participants must have an Internet connection and speakers (either computer or phone) in order to participate.
Online Seminar Archive

All online seminars are recorded. Fee-based online seminar recordings are made available to those who registered for up to one week after. Knowledge Series seminars will be available in the Member Center's Online Seminar Archive indefinitely. Other free online seminars will be available to watch in the Archive for two years. The Archive is available only to SAA members.